By Rich Cimini
Special to ESPNNewYork.com
AP Photo/Steven Senne
Vladimir Ducasse knew nothing about football growing up in Haiti; now he's in the NFL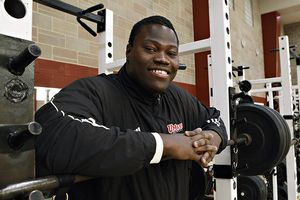 It was like a scene out of "The Blind Side," the man-among-boys lineman -- a football neophyte -- turning heads with a gesture that defied gladiatorial etiquette.
He acted gentlemanly toward an opponent.
Vladimir Ducasse
's first game for the varsity, his first football game in … well, ever. The 6-foot-3, 275-pound
junior pancaked a defender and did something that caused a ripple of laughter among spectators and fellow players.
"He was so raw," Stamford coach Kevin Jones said, "that he knocked a kid over and actually apologized and picked him back up."
Ducasse was new to the game -- new to the United States -- but he learned quickly. He got bigger, stronger, faster and became a dominant left tackle at UMass. On Thursday, he will report to the Jets' rookie minicamp, the next big step in an amazing journey that began in Haiti. He will have an opportunity to replace jettisoned left guard
Alan Faneca
, one of the decade's most decorated players.
Actually, this story might be too farfetched for Hollywood.
"With what he's been through," GM Mike Tannenbaum said of his second-round draft pick, "you'd never bet against him."
This story was born on the Fourth of July, 2002, when Ducasse and his brother, MacArthur, arrived in Miami from Haiti. Things got so crazy in his homeland, with street violence and civil unrest, that his father, Delinois, sent his two boys to America for better educational opportunities.
Vladimir was only 15, and didn't speak English, but he made his way to an aunt and uncle in Stamford, which became his home. Lezanoro and Virginia Ducasse became his guardians. He showed up at the high school and word spread quickly among the football players.
"Kids ran to my office and said, 'Coach, you have to see this kid who just moved here,'" Jones recalled. "It took me a while to find him, but I got him on the field and he decided to play. Everybody else was going through tryouts. I looked at him and I said, 'You made the team, son.'"
It was Football 101. In Haiti, Ducasse played soccer and basketball. Football was so foreign to him that he needed instructions when he put on his uniform for the first time. As Jones said, "We were starting at zero." Until he arrived in the U.S., Ducasse had never seen football, much less played it. Learning the basics, such as the three-point stance, became an adventure.
But Ducasse fell hard for the game, showing up at his coach's office at 6:30 a.m. every day in the summer to lift weights and study the nuances of the sport. He made it like a job, spending eight hours a day with Jones.
"Once I got the helmet and pads on and started hitting people, I started to like it a lot," Ducasse said.
Ducasse is a man of few words, but he could write a book with everything he has seen in his life. He's still haunted by the image of his father being robbed at gunpoint on a street in Port-Au-Prince. He was 12 when that happened, watching from the car in horror.
It was a hard place to grow up. As a boy, he routinely heard gunfire from his bedroom, the sound of street gangs up to no good. Some children get lullabies when they go to bed; Ducasse got "Boyz n the Hood." His father, an accountant, made the decision to send Vladimir and MacArthur to the U.S. It was hard, yet so easy to make them go.
Fittingly, Delinois was with Vladimir on Friday night when his son was drafted by the Jets. They were at a steakhouse in Connecticut, a long way from earthquake-ravaged Haiti. (No one from Ducasse's family was injured during the devastating quake.) It was quite a draft-night celebration. Jones was there, too, and he choked up as he described the emotions of the night and the past few years.
"It was," he said, his voice cracking, "a good night."
Now the euphoria is over, and Ducasse has to get down to business. The Jets expect big things out of him, hoping he can make a successful jump from the Colonial Athletic Association to the NFL -- a huge leap. He and
Matt Slauson
, a second-year backup, will compete for Faneca's old job in training camp.
Ducasse is considered an outstanding drive-blocker, but he could struggle in pass protection. At the Senior Bowl, where he was exposed to major-college defensive linemen, he got off to a bad start in the pregame practice sessions. But he settled down, allaying concerns about the jump in competition.
"He's a tough guy," said Joey Clinkscales, the Jets' vice president of college scouting. "He plays with an attitude if you've watched him play."
Here's a safe bet: You probably won't see him apologizing to his next pancake victim.
Rich Cimini covers the Jets for ESPNNewYork.com.